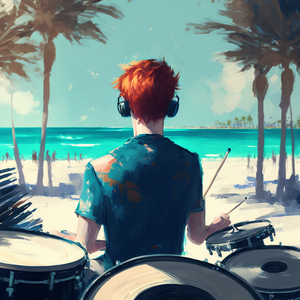 New section
Some people call it a "Chill California sound"
Some people call it soul or funk.
Some people call it R&B or jazz.
Rhythm&Truth says, "it's all of the above."
Jimi Hendrix Quote
"

We want our sound to go into the soul of the audience, and see if it can awaken some little thing in their minds… 'Cause there are so many sleeping people." - Jimi Hendrix
ABOUT RHYTHM & TRUTH
Rhythm&Truth's fresh soul-pop-funk-jazz sound has found its way to music lovers around the world. Founded by tech entrepreneur, Daniel Anstandig (drummer/songwriter/producer) in 2020, the mission of Rhythm&Truth is to create music that encourages and elevates the spirit of every listener. 
With over 3 million streams, Anstandig has written or produced music for a variety of artists and licensed music for sync in a number of styles including R&B, soul, neosoul, pop, country, Christian. 
Rhythm&Truth is currently in the process of releasing a three-part album called Time Travlr. Part one of the trilogy was released in August 2022, and part two was released in February 2023.
Rhythm&Truth's debut release, Life Lessons (2021), is a stylistically diverse concept album about growing up and living a meaningful life. During COVID lockdown, Anstandig and a small team of collaborators worked only virtually to create the album. Some, like European musician Clemens Wenners and fan-favorite and The Voice contestant MaKenzie Thomas, (whose debut album, Love, MaKenzie, Anstandig produced — and it debuted in the top 30 on iTunes Pop Charts!), have been longtime Anstandig collaborators.  
In May 2022, Rhythm&Truth and Gabriel Henrique released Gabriel, which debuted as one of the top streaming albums in Brazil. 
DISCOGRAPHY
The first single on the album, Mother Earth Father Sky, featuring Clemens Wenners, was released on April 20, 2021. 
MaKenzie Thomas' debut album, Love MaKenzie, produced by Rhythm&Truth, was released on May 25, 2021.
Rhythm&Truth's debut album, Life Lessons, was released on June 21, 2021 in every major digital music store and streaming service.
Jake Good and Rhythm&Truth released a new single, Break the Shell, on the first day of Spring in the Northern Hemisphere, March 21, 2021.
Gabriel Henrique's debut album, Gabriel, produced by Rhythm&Truth, was released on May 17, 2022.
Rhythm&Truth's Time Travlr I, the first of a soul-pop-funk-jazz trilogy, released on August 3, 2022.